Let's take a look at Yoshiko (pseudonym)'s daily lunch! Kaisen-Don and more.
Japan Foundation staff from seven Southeast Asian countries and Japan report with pictures and videos about what they had for lunch for five days. You will hear "Delicious!" in each language in the video. Catch a glimpse of their local food culture while you enjoy the reports.
Day1
Onigiri (rice balls) and miso soup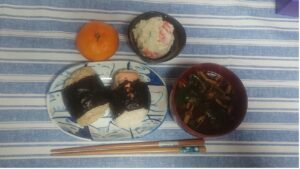 Lunch break on a day working from home. On the table, I have an assortment of foods all bought in a local supermarket. One onigiri with grilled salmon, one tori-gomoku onigiri, a bowl of miso soup with nameko mushrooms, potato salad, and a mikan (mandarin orange). Tori-gomoku onigiri is Japanese steamed rice with ingredients, in this case with chicken, carrots, shiitake mushrooms and burdock roots. The potato salad had mayonnaise dressing which was surprisingly light and tasty. I love sweet mikan and thought the winter fruit was perfect for today's dessert.
Day2
Kaisen-don (Seafood donburi)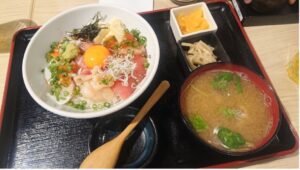 For lunch today, I ordered kaisen-don at my favorite seafood restaurant near my office. The bowl of rice is topped with fresh ingredients such as tuna marinated in soy sauce, naka-ochi (fish meat around the spine), two kinds of local fish, shirasu (boiled whitebait, or small young fish), fresh scallop, boiled octopus, and salmon eggs, served with raw egg and tororo (grated Japanese mountain yam). The fish meat is tender and the boiled octopus melts in my mouth. The miso soup, sumptuously prepared with fish meat and strong fish bouillon, is very comforting. I enjoy the meal with the good company of my colleagues. My power battery is recharged, and I am ready to take on more tasks this afternoon!
Day3
Ramen noodle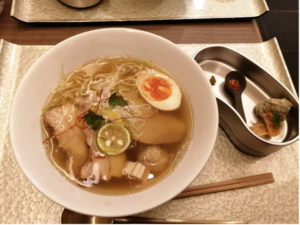 It was cold today and I wanted a warm meal, so I went to a ramen noodle restaurant. Home-cooked ramen is yummy, but I must say, ramens served in restaurants are exceptionally tasty. While there are so many different variations to choose from, I am a great fan of this healthy ramen with Japanese-style chicken broth and toppings of tofu skin and citrus sudachi. My stomach happily full with zesty warm soup, I felt fully energized from my lunch. Gochiso-sama deshita (Thank you for the lovely meal)!
Day4
Bibimbap (Korean mixed rice)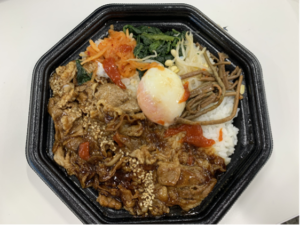 Today I bought my lunch at a nearby supermarket. I chose a Bibimbap bento (lunch box) with Korean-style barbequed meat, pickled bamboo shoots, seasoned beansprouts, spinach, daikon radish kimchi, and a poached egg in the middle, over white rice. It came with a pack of Gochujan (Korean red chili paste), so I added a little and mixed it in as I ate the dish.
Yesterday, Tokyo saw its first snow of the season. It is cold again today, so it was nice to warm my body with a spicy bento.
Day5
Teppan-yakiniku (Meat cooked over iron griddle)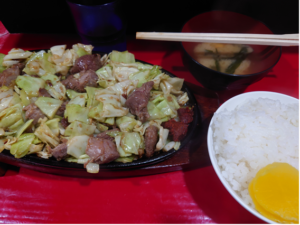 With Covid-19 still ongoing, it's difficult to travel even within Japan. For today's lunch I chose Teppan-yakiniku, a popular local dish from Hakata, Fukuoka, to feel a little bit like I was away on a trip. This dish is served on a sizzling hot griddle with a small block of wood tucked under on one side, tipping it at a slight angle. As the meat cooks on the griddle, drippings collect on the other side. Spicy miso is mixed into the drippings, and meat and cabbage are glazed with this sauce for extra flavor. The dish has a kick of garlic and is perfectly yummy without any sauce. But with the mustard miso added, it becomes an irresistible match with steamed white rice.